Instruction Sheet Protector S49-I

Pneumatic rail track hook type Proctector S49-I
Remote-controlled rail track hook for handling of liquefied gas with tank wagons
MS-Sicherheitstechnik GmbH offers you with Protector S49-I a safety device which fulfils all statutory safety requirements. Protector S49-I can be integrated without any difficulty in the safety circuit of a discharging system. By means of the Protector the loading can be abrupt broken.


Handling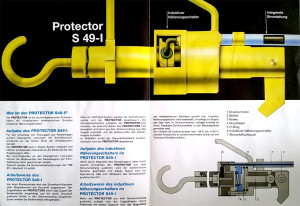 The trip system will be controlled via solenoid valves with compressed air from a central control station. The Protector will be hooked in the traction rope of the tank wagon's bottom valves and will be pulled out at least 3 cm. Now the magnetic field of the proximity switch operates and the relay of the switching amplifier attracts. Through this the Protector will be charged with pressure air, the catch to the rail will be arrested and the unit will be hooked with the rail track. Hence the bottom valves will be left open. Now the trip valves will be opened and the loading can start.
After completion of the loading the Protector will be released manually from the rail track. The traction rope of the bottom valves relaxes and the valves of the tank wagon close.
Security advice

Protector S49-I is designed for loading and discharging of liquefied gas with tank-wagons and may not be used for purposes other than intended.
For safety reasons the pressure springs of the Protector must be changed not later than 10 years.
Technical specifications
Control pressure: 2 – 10 mbar
Material: MS 58 (brass alloy), low ignition sparks
Weight: approx. 7 kg
Inductive proximity switch from company: Pepperl + Fuchs NJ 4-12GK-SN
Control air hose: gas hose DIN 8541 (electric non-conductive)
Control air connection 12 mm (outer diameter of the hose)
Length in free-length situation: 540 mm
Length in clamped situation: 700 mm